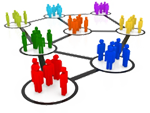 E-Mail Friends
Bald Fade Haircut
A fade cut is a haircut in which the hair gradually increases in length from the bottom to the top. Men love these cuts because of their hassle free and low maintenance requirement. A bald fade haircut is one of the most popular haircuts. The hair is usually cut extremely close to the head, starting from the bottom of the hairline, going till half way up to the crown of the head. The cut does leave a much shorter amount hair on the head, about 0.5 to 1.0 inch, allowing a brush or small comb to go through the hair, leaving a larger portion of the hair neatly faded into the scalp from the back to the sides. It is worth mentioning that this is a more conservative style and is ideal for professionals of all cadre and even the military.
Different versions of the fade haircut have been made popular over the years by musicians, top movie stars and sports giants; making the style quite iconic. A fade can be done in different ways although there are 3 types of fade haircuts; these include the Low, Regular or High. On top of this, a fade cut can also be accompanied with a specific haircut on top of the head, hence giving rise to 2 extra types of fade haircuts; the Temple Fade and the High top fade. For those who are not so sure about the fade cut they want, it is usually advisable to opt for the regular fade haircut first and then if you don't like it, opt for a low fade haircut.
To get a good haircut done, it is important to have it performed by a professional, unlike other haircuts which you can try out at home, this style requires a well experienced barber who not only pays close attention to detail but is also adept at figuring out the best hair style for you. Tallahassee Barbershop is one such place where you are bound to get world class service at an affordable cost.
Book Appointment
Call Today!
Standing By!
850.671.4247
Recent Posts
---